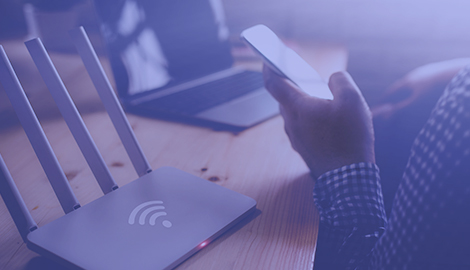 If you've begun researching broadband solutions, you may have encountered discussions about managed and unmanaged Wi-Fi. While both offer broadband solutions, you need to understand the critical differences to decide which is a better fit for your business. In this post, we'll provide a brief overview of both options, their key benefits, and some of the challenges associated with each.
Managed Wi-Fi
When a company advertises a managed Wi-Fi solution, they're offering to design, install, and maintain all of your wireless infrastructure for you. You pay a fixed monthly fee, and in return, your team doesn't have to worry about monitoring, updating, or repairing your wireless network. With one less thing to worry about, your organization can stay focused on day-to-day operations.
Managed Wi-Fi solutions are ideal for larger facilities where multiple visitors, residents, or employees need high-speed internet access. Managed Wi-Fi designs typically involve extensive infrastructure that integrates numerous access points, wireless controllers, switches, and cabling to maximize network performance.
If you don't have a team of in-house IT experts, a managed Wi-Fi solution helps you get the most of your infrastructure while guaranteeing superb signal strength throughout the building. At the same time, should any network issues arise, you know exactly whom to call. However, you may have less control over how your network is secured and designed when you partner with a managed Wi-Fi provider. You also should expect to pay more for the hands-on service a managed Wi-Fi solution provides.
Benefits of Managed Wi-Fi
The benefits of a managed Wi-Fi solution generally outweigh the drawbacks by offering:
Access to the latest technology

A hassle-free approach to troubleshooting

The possibility of bundling services and internet plans

Simplified scalability as your organization grows

Cost-effective equipment rental options
Unmanaged Wi-Fi
Simply put, unmanaged Wi-Fi is what most people have at their homes. Unmanaged Wi-Fi networks usually only have one access point (frequently just a single router) and minimal cabling. These networks typically have low bandwidth with only a handful of connected devices during peak use. Since this single access point—or even a couple of access points—is not connected or integrated to work in conjunction with another, the network is considered unmanaged. Since access points aren't designed to work together, signal strengths, upload speeds, and download speeds are generally lower than with a managed Wi-Fi network.
Challenges of Unmanaged Wi-Fi
While an unmanaged Wi-Fi solution offers lower upfront costs, that doesn't necessarily make it a more cost-effective option than managed Wi-Fi. If you have a problem with your Wi-Fi network, it's up to you to troubleshoot and resolve the issue. If you can't handle it in-house, you may need to outsource the problem to an IT provider. When you account for downtime as well as productivity and revenue loss, a managed Wi-Fi solution can quickly pay for itself by guaranteeing a reliable business platform for your team. In addition, unmanaged Wi-Fi can make it more challenging to scale your Wi-Fi network as your organization grows.
Your Boca Raton Wi-Fi Service Provider
QXC specializes in providing comprehensive fiber optic network solutions for organizations throughout Florida, we're here to serve your needs no matter where you are in the United States. Whether you're interested in exploring our managed Wi-Fi services or you want an estimate for a turnkey fiber optic internet installation, contact our experts today. We'll work with you to explore your vision, clarify your needs, and build a network foundation that's prepared for the challenges of the 21st century.
https://qxc.us/wp-content/uploads/2019/05/AdobeStock_191230387.jpeg
270
470
ktodd
https://qxc.us/wp-content/uploads/2020/03/Logo-and-sig-for-website-1-300x90.png
ktodd
2019-05-28 19:58:52
2019-09-30 14:37:08
What's Better—Managed or Unmanaged Wi-Fi?