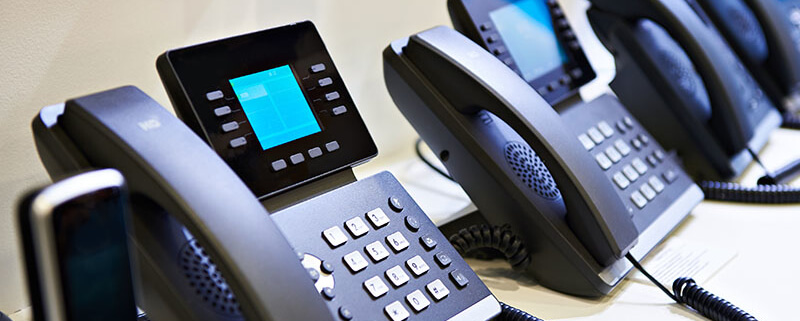 If your business wants to streamline operations while taking advantage of the latest collaboration tools, a comprehensive Voice over Internet Protocol (VoIP) platform offers the flexibility and affordability you need to elevate productivity while preparing for tomorrow. More businesses are taking advantage of VoIP services as a more robust replacement for traditional business phone services. Here are ten key benefits businesses are experiencing by switching over to VoIP.
1. Save Money
If your team frequently makes long distance calls, you know how quickly they can add up and increase overhead. VoIP uses your Internet connection to place and receive calls, drastically reducing the cost per call. Transitioning your current phone systems to a VoIP phone solution can save your business money from day one by immediately decreasing operating expenses.
2. Mobility
Because a VoIP phone system runs over the Internet, your team can access your VoIP tools from anywhere with a network connection. Wherever work takes your team, they have access to your telecommunications systems and tools without ever being tied down to one physical location. At the same time, if your business moves buildings, you'll be able to take your phone numbers and phone systems with you, making the transition as seamless as possible.
3. Scalability
A VoIP system doesn't require traditional phone lines like legacy phone systems, so your organization can quickly add more phone numbers to your system as your userbase grows. If you're a growth-oriented organization, a VoIP system has the on-demand scalability you need to ensure that your telecom platform never slows you down again.
4. Powerful Tools
A VoIP system comes with a number of integrated productivity tools like voicemail to email, call routing, call screening, virtual faxing, and click to call. With the latest productivity tools designed to work alongside your VoIP system, your team will be able to get more done in less time paired with the flexibility to focus on customer engagement.
5. Simplified Conferencing
A VoIP system pairs seamlessly with call conferencing and video conferencing platforms. As part of a unified communications platform, your VoIP and conferencing tools give your team access to the latest collaboration tools all in one place.
6. Crystal Clear Quality
HD voice has become standard for VoIP services, so your team can enjoy the best call quality available today while ensuring that your clients hear your message loud and clear.
7. Service Integration
A VoIP platform aligns perfectly with other productivity platforms like Microsoft Office as well as hands-free dialing and desktop sharing solutions to provide a centralized platform for day-to-day operations.
8. Improved Productivity
Because critical collaboration tools are consolidated on one platform, your team has everything they need in one place. By centralizing control, your team can streamline mission-critical tasks to get more done than ever before.
9. Solid Security
A VoIP phone system provides a more secure platform than traditional business phone systems. With the ability to encrypt sensitive voice traffic, VoIP security features protect your organization from eavesdroppers and cybercriminals looking to exploit your communication systems.
10. Auto Attendants
With integrated auto attendant functionality, a VoIP system allows you to prioritize the customer experience by ensuring that customers always have access to critical information. Even outside of regular business hours, automated assistants can be programmed to serve your customers anytime they call. At the same time, auto attendants lend an image of credibility to your business.
Boca Raton VoIP
Specializing in VoIP solutions for the Boca Raton region, QXC is here for all of your fiber optic network and communication needs. Get in touch with our team today, and we'll explore how to prepare your organization for the challenges of tomorrow.
https://qxc.us/wp-content/uploads/2019/04/Blog1.jpeg
600
800
ktodd
https://qxc.us/wp-content/uploads/2019/01/QXC-Logo.png
ktodd
2019-04-23 14:00:19
2019-09-18 16:15:19
The Top 10 Benefits of VoIP