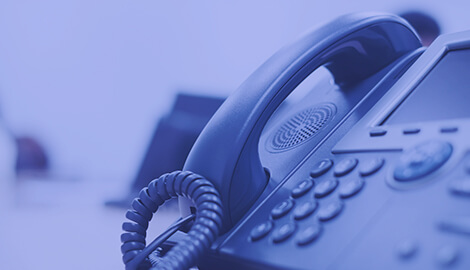 Whether your organization is looking for a traditional phone system or a VoIP phone service provider, you need a reliable partner who works to ensure your phone systems integrate seamlessly with your operations. In this post, we'll take a look at what options you have, followed by what factors to consider as you search for an ideal partner.
Understanding Phone Systems
Before researching phone service providers, it helps to understand what's available out there and how it might suit your needs and goals. In today's market, you have three main options for your phone systems:
PBX
A private branch exchange (PBX) phone system operates via traditional phone lines. Voice signals are transmitted through phone lines, and the communication server is hosted and maintained at your facility. While providing a reliable platform that's been used for decades, a PBX phone system lacks the flexibility and scalability that growth-oriented enterprises prioritize.
IP PBX/VoIP
An IP PBX or Voice over Internet Protocol (VoIP) phone system operates like a PBX system, but voice signals are transmitted over your internet connection instead of through traditional phone lines. Your IP PBX server can be hosted at your building, or a hosted PBX solution can be deployed remotely through a service provider. An IP PBX platform also lets you freely switch calls between VoIP and legacy phone users. One of the key benefits of an IP PBX solution is it allows seamless voice, video conferencing, and data integration for each of your users.
Virtual VoIP
A virtual VoIP solution allows your team to use your phone system without being tied to any specific hardware. Users place and receive calls through an internet browser, your service partner's application, or right from their computers. Termed a "softphone," virtual VoIP prioritizes mobility, flexibility, and scalability by enabling access to phone systems from any of the computers or mobile devices your team already uses. That way, they have access to the same robust calling features whether they're in the office or across the globe. Just be aware that an internet connection is required to access and use the phone system.
Choosing the Right Phone Partner
Once you've gained a clearer idea of what phone system will work best for your organization's needs, you can start researching service providers and requesting estimates. These key considerations can help you get the most out of your phone service partnership:
The Role of Your Existing Infrastructure
One of the first things you need to consider as you survey potential phone service partners is your own infrastructure. If your facility isn't set up for a VoIP system, you'll need to find a partner who can make the necessary infrastructure upgrades. Finding a partner who can provide a turnkey phone system solution can save you money in the long run while offering faster deployment timelines.
Your Growth Goals
Looking at the bigger picture, it can be helpful to establish one or more concrete goals you wish to achieve by adopting a new phone service platform. By having measurable objectives you can present to potential partners, you can understand precisely how they can help you achieve those goals and gauge which providers can help you do so most effectively.
If you're a growth-oriented business, you need a phone service partner who's prepared to keep up with your growth goals. Do they offer scalability and flexibility to ensure they never slow your team down? Clarifying your plans for growth upfront can help you determine if a phone provider can help prepare you for challenges today and tomorrow.
Essential Features
What features are most critical for your day-to-day operations? Make sure your phone partner can accommodate these features. If not, you can probably start crossing some providers off the list. At the same time, if they're not willing to solve your team's needs, that's a fair indication they won't offer the flexibility to work with your changing needs in the future.
VoIP Phone Services to Prepare You for Tomorrow
If you're ready to empower your team with next-level phone system performance and functionality, get in touch with the experts at QXC today. For everything from turnkey fiber-optic network installations to high-speed internet and VoIP solutions, we're here to streamline your communications platform, so your team can get more done in less time while preparing for the challenges of tomorrow.
https://qxc.us/wp-content/uploads/2019/05/AdobeStock_185160589.jpeg
270
470
ktodd
https://qxc.us/wp-content/uploads/2020/03/Logo-and-sig-for-website-1-300x90.png
ktodd
2019-05-06 14:00:28
2019-09-18 16:14:35
How to Find the Right Business Phone Service Provider