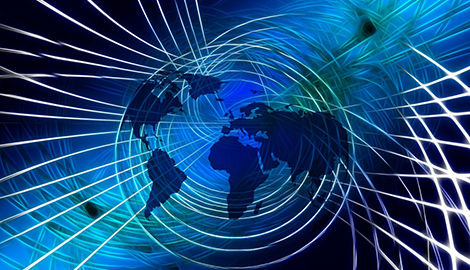 Fiber is the future.  Regardless if you are a business or residential Internet surfer, you need to upgrade to the fiber-optic Internet global backbone. Send information at the speed of light.  
The Fastest Speeds
We all use the Internet, but not every user knows how wires cross and connect. When you sign a contract, wouldn't you rather know what details go into the unlimited plan? At QXC, we know how to provide the best Internet, and at the highest quality for your residence. 
How does the Internet work in your home? In industry-speak, the "last mile" is the physical connection from your building or home's telecom connection point to your Internet Service Provider's regional Point of Presence (PoP). The connection point is also called the demarcation point or demarc. 
The ISPs funnel all their customers' data to and from the Internet. Don't worry; the ISPs work to keep your information confidential! 
Large capacity fiber-optic links handle the load. They can handle vast amounts of data to avoid crashed servers. Likewise, the "last meter" is the connection between you and your demarc.  
AT&T and Comcast had network wires deployed across the country long before the Internet entered the 1990s mainstream. They prepared ahead of time on learning how people would use this digital frontier. 
These networks were designed, built and optimized for different purposes. That way, they could coexist without competing all the time. AT&T's network was obviously designed for telephone service. Comcast and other cable companies were designed for TV broadcasts to compete with over the air TV stations and networks. Oligopolies ensued so that several larger corporations dominated the market. 
Both of these legacy systems were retrofitted in the 1990s and 2000s to offer Internet access. Alternatives to AOL and Internet Explorer appeared. As is the case with most retrofitted technologies or uses of technology, they were cheap and readily available. 
As a tradeoff, the Quality of Service (QoS) was and will continue to be spotty.  These legacy companies have hundreds of billions of dollars invested in existing legacy network technology. Because of that, they cannot convert all customers to fiber-based network connectivity.  
Suppose AT&T or Comcast says they will pull fiber to your building. Most often they will use the existing last meter cabling. You can do better. Why should you settle for last meter technology that was invented in the 1880s? 
No, that is not a typo. Alexander Graham Bell patented phone wire in 1881, and Oliver Heaviside patented coaxial cable the year before in 1880. That was 30 years before the first Model-T Ford rolled off the assembly line in Detroit. 
Yes, phone and cable technologies are that old! Companies should upgrade their technology. We have moved past those times.
QXC Communications is a network engineering firm at its core.  We design, deploy and manage pure Ethernet, the modern-day language of the Internet; network connectivity via fiber-optic; Ethernet cabling (Cat5e and Cat6); and microwave forms of connectivity.  QXC does not have legacy technologies to maintain. Everything is designed, deployed and optimized for present and future Internet connectivity.  
Another differentiation is that QXC will pull fiber to the home, condo or business, no duct-tape or paperclip connections!  QXC is also a prime telecom provider to Federal, Military and White House customers as well.  
QXC does not have billions of dollars invested in legacy technologies that we need to support. As a result, our pricing typically is at or below the incumbent providers. That means you can get the best technology that is designed, deployed and optimized for your usage. QXC is also more secure and stable and typically more cost-effective.
Learn More From QXC
You can find out more information by talking to our experts. QXC knows how to deliver value and ensure that you receive only the best high-quality Internet. 
Contact us today online. We can give you an estimate for your residential building. Let us connect you to the outside world, no matter your location. 
https://qxc.us/wp-content/uploads/2019/05/condo-fiber-optic.jpg
270
470
ktodd
https://qxc.us/wp-content/uploads/2020/03/Logo-and-sig-for-website-1-300x90.png
ktodd
2019-08-06 16:37:04
2019-09-18 16:14:04
Fiber-to-the-Home, Condo, or Office For Awesome Internet